People who want to follow Superintendent Heath Morrison's metaphors may want to step up their viewing of reality TV.

I was perplexed when a presentation on school redesign ended with the goal of ensuring that "families in CMS will love our schools, not list them." Someone explained that it's a play on the HGTV show "Love It or List It."

Now Morrison is eagerly telling his staff about Chef Ramsay throwing bad risotto.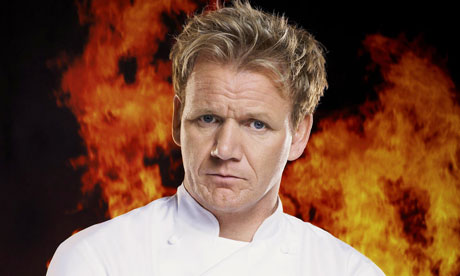 Management role model? @*#%!
It's hard to imagine fiery-tempered, foul-mouthed Gordon Ramsay, star of "
Hell's Kitchen
," serving as a management role model for Morrison. Morrison, who considers a PB&J fine dining, is quick to note that he's never tried risotto and doesn't really plan to throw food or "call anyone a donkey" like Ramsay does when he's displeased.
I'm not even sure Morrison has his risotto-throwing story right. I found accounts of Ramsay throwing meat and chucking someone's phone into boiling water, but the only
risotto-toss my Google search turned up
involved rival chef Marco Pierre White.
But I think the idea he's trying to convey is that the proof is in the, er, risotto, and Morrison is going to demand results from everyone charged with making schools better.
At a news conference this morning, Morrison announced an administrative shake-up that he says will focus everyone on service to schools. (
Here's my story
and
here's the CMS news release
.) He emphasized that everyone, from bus drivers and janitors to top-ranking administrators, needs to be able to justify their work in terms of promoting education. If you can't explain how you're serving students and schools, he said, "then you're probably someone we don't need."